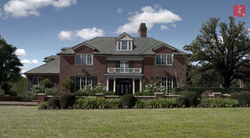 The Abbott Mansion is situated on 603 Glenwood Drive. Current residents of the Abbott mansion include Jack Abbott, Traci Abbott, and Abby Newman.
History
The prominent and close-knit Abbott family arrived in Genoa City around 1980 and settled in their stately mansion. Located at 603 Glenwood Drive, John Abbott raised his children (Jack, Ashley, Traci and Billy) here. Known for scenes where the Abbotts gather around the breakfast table or discussing Jabot business in the living room, the Abbott home is one of the best known homes in town.
Memorable happenings throughout the decades include an intoxicated Katherine Chancellor interrupting Christmas to expose Jill Abbott and Jack's affair, Brad Ca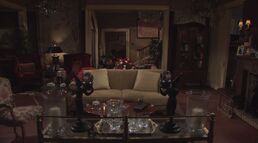 rlton working as a gardener when arriving in GC, Gloria Fisher winning control of the Abbott Mansion after battling in court with Jack, Lauren Fenmore Baldwin falling down the staircase, Jack revealing to the Jabot Cosmetics board he planned to sell the majority share of the cosmetic empire to Chancellor Industries, Patty Williams and Sara Smythe (impersonating Dr. Emily Peterson and Lauren) scheming to murder Michael Baldwin and Phyllis Summers, Lily Winters and Daniel Romalotti making love for the first time in the old family playhouse, etc.