The Baldwin and Fisher families are fictional families fro
m the CBS Daytime soap opera, The Young and the Restless. The two families became blended largely due to brothers, Michael Baldwin and Kevin Fisher. They are a minor family within the series, known for the eccentric antics and schemes of matriarch, Gloria Abbott Bardwell, Michael and Kevin's mother. Various members of the family are also known for extreme villainy, mischief making and operating outside of the law. Some of Genoa City's most notorious criminals and troublemakers have been apart of this family.
Family Members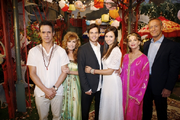 Family members currently on the show are represented in bold. Spouses are in italics.
First Generation
Second Generation
Third Generation
Former Members
Gallery
Descendants