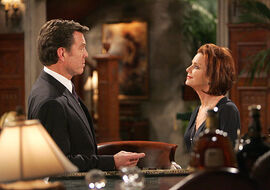 The Genoa City Athletic Club (also called the GCAC and The Club) is a hotel, gym and restaurant in Genoa City.
Profile
The Genoa City Athletic Club was frequented mostly by the very wealthy citizens of Genoa City. The Newmans, Abbotts, Williams, Winters and Baldwins were often seen there. It's ownership was unkown, but Gina Roma was the manager. The GCAC was used for everything: balls, weddings, birthday parties, etc.
Two murders took place at The Club: the murder of Ji Min Kim in his hotel room and the murder of Richard Hightower, who was killed during the annual Genoa City Police Department's benefit masquerade ball. Lauren Fenmore was abducted during that ball by Sara Smythe. The GCAC sustained an explosion because of a gas leak in the basement, but it was completely repaired in only a few weeks.
In October 2010, Mr. Henderson at the Genoa City Athletic Club told Diane Jenkins that she needed to pay her bill as the credit card she gave them was declined. Diane said she would get it cleared up right away then made a phone call to find out how much gold was selling for. Jack Abbott entered with Kyle Abbott's tuition bill and said he'd like to help with his expenses. Diane accepted with a sigh of relief. As of January 2014, Devon Hamilton is the new owner of the club.
Staff
Employees and Roles
Former Employees and Roles
Community content is available under
CC-BY-SA
unless otherwise noted.