Mattie Ashby
Lexi Stevenson as Mattie Ashby
The Young and the Restless
Portrayed by
Jordan Lemnah (2010-12)
McKenna Roberts (2013-2017)
Lexie Stevenson (2017-)
Current status
Present, recurring
Duration
2010—
First appearance
June 25, 2010
Introduced by
Maria Arena Bell
Profile
Family
Ashby, Winters
Full name
Matilda Colleen Ashby
Nickname(s)
Mattie
Namesake(s)
Colleen Carlton
Gender
Female
Born
June 25, 2001 (Originally 2010 then 2003)
Age
18
McKenna Roberts as Mattie Ashby
Jordan Lemnah as Mattie Ashby
Matilda "Mattie" Colleen Ashby is a fictional character on The Young and the Restless, portrayed by McKenna Roberts 2013-2017, and Lexie Stevenson in 2017.
Biography
Birth and Childhood
Mattie is the daughter of Lily Winters and Cane Ashby. She has a twin brother named Charlie Ashby.
Through her father, Mattie has a younger brother named Sam Ashby born on November 8, 2017.
Lily was diagnosed with Ovarian Cancer but refused surgery because it would mean that she wouldn't be able to have kids. Her aunt, Olivia Winters, made sure that two eggs were harvested before her surgery. Lily decided that she wanted kids although she still had cancer, and her friend Mackenzie Browning offered to be a surrogate. The eggs with Cane's sperm were put into Mac and she became pregnant with twins.
But Lily was dying and Cane could possibly be deported back to Australia. Liv suggested that Lily use the baby's stem cells to make her better, but both Lily and Mac decided against it because it could hurt the babies. Lily got weaker and Cane sued Mac for the stem cells, but then decided to drop the case. However, the stress of it all caused Mac to go into early labor. The babies, named Charlie and Matilda, were born small but healthy and the umbilical cord blood was used to save Lily.
Charlie and Mattie mainly grew up being raised by Cane and Lily though there was some strife in the family, mainly due to Cane's past, and temporarily assumed death. Cane was alive, but gaslighting Lily as part of a plan he and his mother, Genevieve Atkinson, came up with to catch his father, Colin Atkinson. Colin thought Cane was his twin brother, Caleb Atkinson, who was going to help him kidnap the twins, but Caleb was the one who had actually died.
Colin's plan failed, and Lily divorced Cane because of what he had put her through, but they eventually reconnected. Aside from Cane and Lily, the twins spent time with both of their grandfathers (Neil Winters and Colin), and their step-grandmother, Jill Abbott Atkinson.
The second time Cane and Lily faced problems in their relationship was when Joe Clark framed Cane for kidnapping Hilary Hamilton and demanding ransom money. Lily cheated on Cane with Joe, and he was determined to hang onto her. Joe was found out and arrested and Cane and Lily reconciled again.
Teen Years
Personality
Video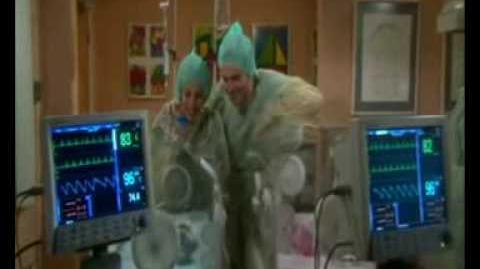 Community content is available under
CC-BY-SA
unless otherwise noted.