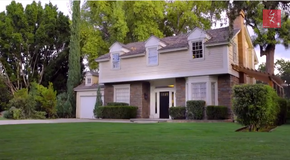 Victoria's House is situated on 416 Orchard Road. Current residents include Victoria Newman and Ashland Locke.
History
The rivalry between the warring Newman and Abbott clans was legendary in Genoa City, so imagine the surprise when former playboy Billy Abbott and ice queen businesswoman Victoria Newman fell in love. The couple bought a suburban home together at 416 Orchard Road. Delia Abbott, Reed Hellstrom, Faith Newman and Summer Newman gathered at the "Father Knows Best" replica during sleepovers before Victoria's son left town with JT Hellstrom and Mackenzie Browning. Mrs. Abbott lamented her desire to give her husband a baby as Billy was mysteriously pursuing the adoption of Daisy Carter's daughter.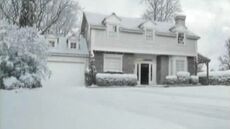 Billy and Victoria eventually lost baby Lucy to Phyllis Newman in an intense custody battle, and after that the Abbott marriage was terribly strained. Victoria began focusing on Newman while Billy left Genoa City for parts unknown. Due to Victor Newman's manipulation, Victoria filed for divorce assuming her husband had abandoned her. What she did not realize was Billy had been arrested in Myanmar and was now being kept away from home after being released to Victor. The Black Knight eventually smuggled him home when Delia needed a bone marrow donor, which lead to a sequence of events where Jill Abbott and Victoria go to Myanmar to rescue Billy only for him to run into his ladylove at a bar in New York when the two are on a layover.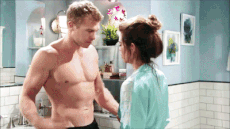 Victoria and Billy reunited, then their happiness was threatened again when Chelsea Lawson, a con artist that had seduced Billy in Myanmar, came to Genoa City stating Billy raped and impregnated her. Billy turned out to be the father, but managed to prove that Chelsea instead drugged and took advantage of him. It was also revealed that Victor had hired Chelsea to seduce Billy!
Chelsea gave birth to Johnny Abbott in 2012 and allowed the Abbotts to raise him as their own.  Victoria remained weary of Chelsea's relationship with her estranged brother, Adam Newman, and feared the two would attempt to take Johnny away, but Billy assured his wife that would never happen. During the fall of 2012, Victoria was kidnapped by an old gambling acquaintance of Billy's, but was eventually rescued in Miami.
After renovating the home in 2013, Victoria and Billy decided to try to have a biological child. However, Victoria was preoccupied by a Newman power struggle with Adam while Billy started attending high-stakes poker games and losing thousands of dollars. Adam informed Billy he knows about the secret gambling and blackmails his brother-in-law with the tidbit.
In 2014, Billy and Victoria divorced and Billy no longer lives at the house. It is now home to Victoria and her children: Johnny and Katie. Her new boyfriend Travis Crawford moved in with them in 2016.
Residents